What is Solid Nail Tips Glue?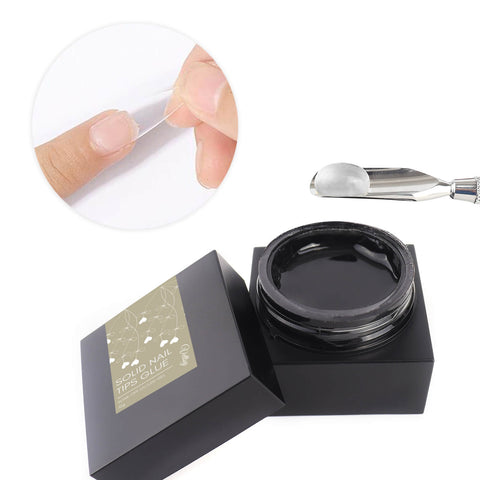 Do you usually make manicure at home? Do you wanna perfect nail art design? Then our new solid nail tips glue will make you do the first step perfectly. It is an adhesive that sticks the fake nails on your nails firmly, as well as sticks rhinestones, and other nails arts work finely on the fake nails.
Whether you are a nail master or a beginner, when you doing manicures at home with nail tips, you're always going to need some high-quality nail glue. Why is it so important? I guess that you do not want your nail  popping off a day or two after hours application.
Therefore, a high-quality glue can ensure your nails stay longer and stronger. What's more, its ingredients are natural resins and does not contain any harmful ingredient. So solid nail tips glue is what you really need.
Differences Between Solid Nail Tips Glue & Extension Gel
Attention!!! Solid nail tips glue and the poly extension gel are two products for different purposes.
The extension gel is used to quickly lengthen your nails and make it just look like natural nails. However, the solid nails tips glue is used for fast bonding of natural nails and false nail tips. It cannot be used for nail extension and poly extension gel cannot stick false nail tips as firmly as the solid glue does.
Solid Nail Tips Glue VS. Traditional Nail Tips Glue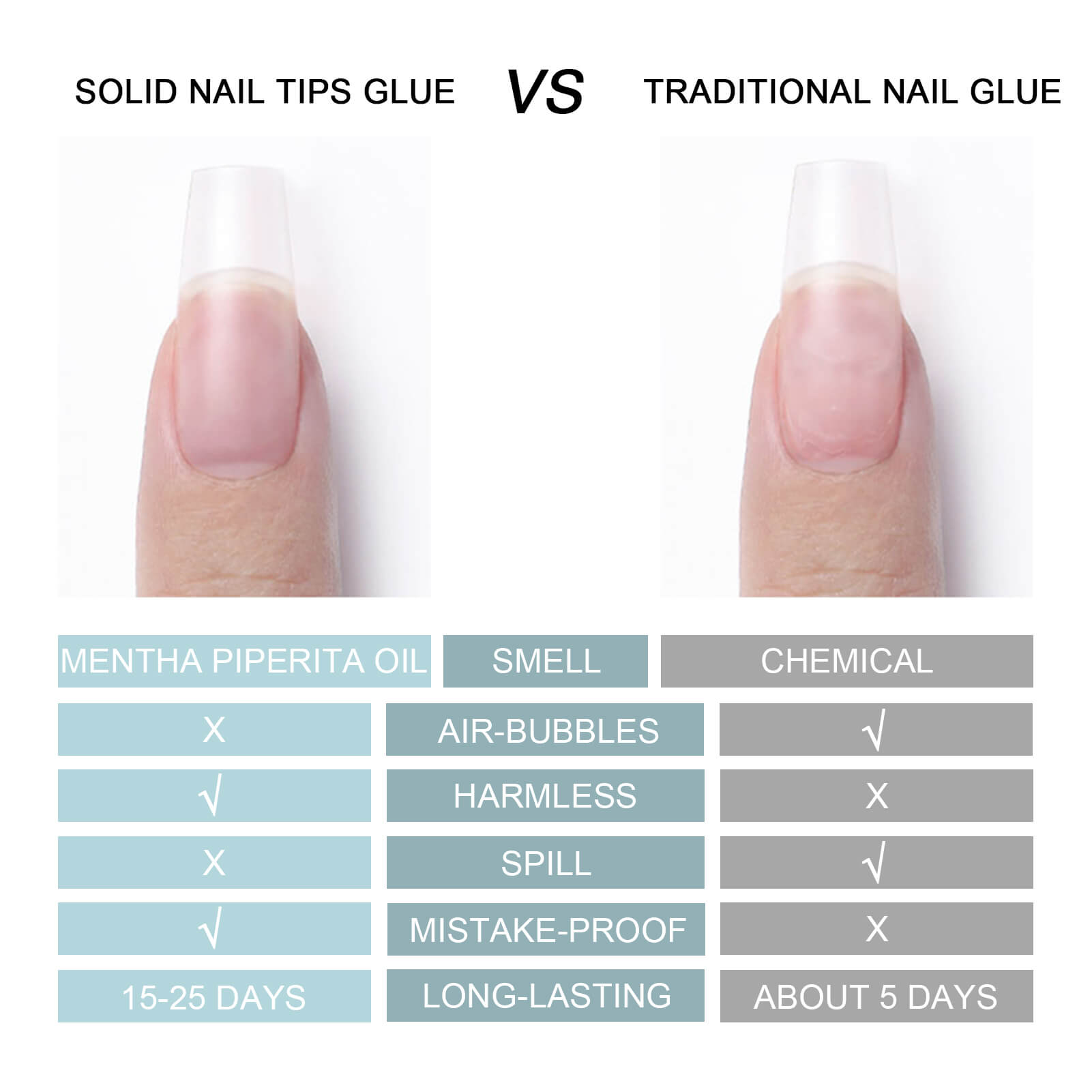 I believe that most of you have used all kinds of nail tips glue many times. It's working but it still have something trouble you.
Have you ever experienced the nails warped because of uneven glue? Did your nails always fall less than 1 week? Are your nails damaged by those glues? Fortunately ,the solid nails tips glue can make up for these shortcomings. It won't spill out no matter how you shake it. The most important thing is that its ingredients are natural resins, it won't damage your nails. You don't need to worry about these problems when you have the solid nail tips glue.
Advantages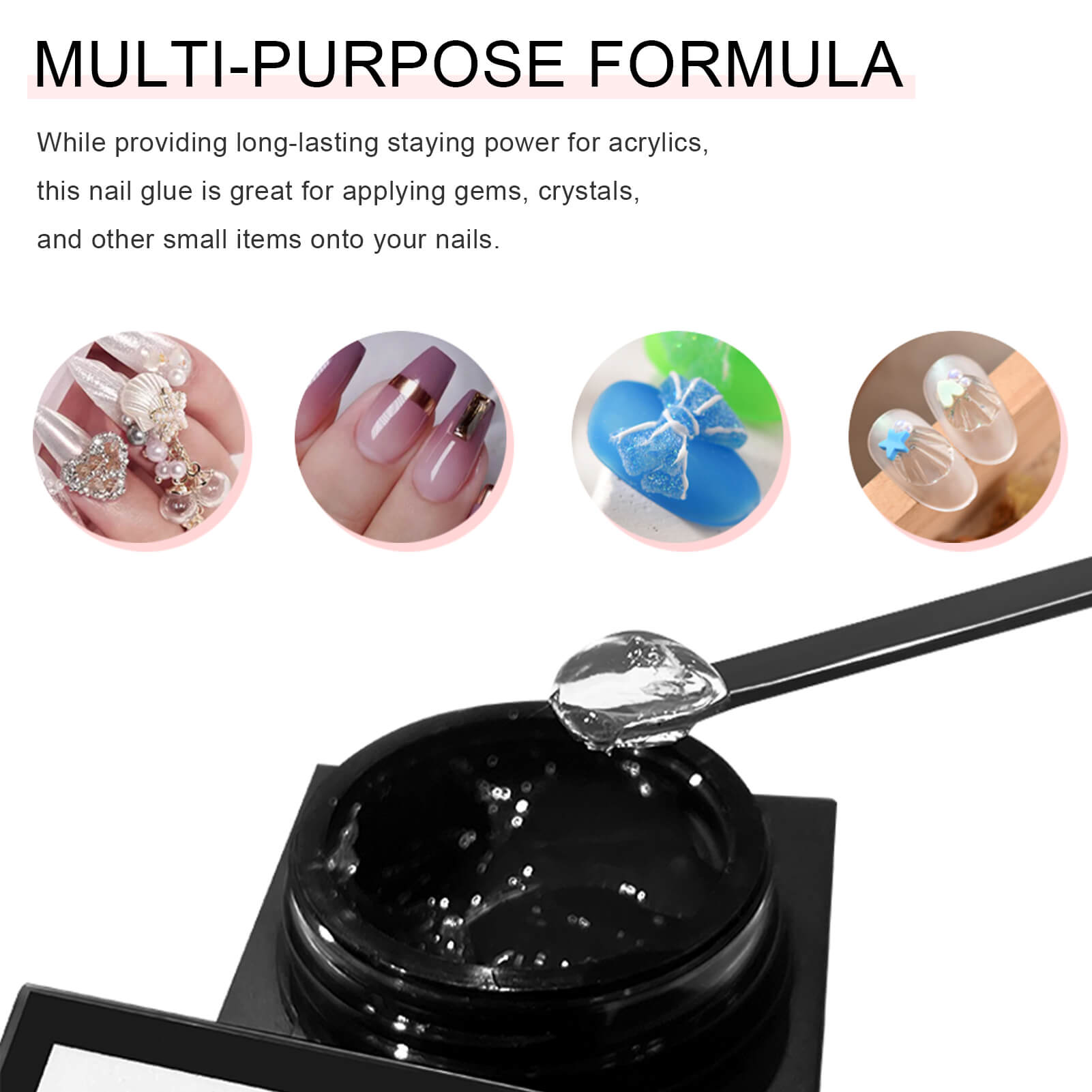 ⭐Non-floating & Easy to Apply
It's very convenient to apply. You don't need to hold the nail tips all the way to wait it dry completely.   
⭐Multifunction & Strong Adhesion
Its ingredients are natural resins, so it can stick nail tips  on your nails firmly and not easy to fall.
⭐Comfortable to Wear & No Air-Bubbles
You will not feel tight and heating when you cure it under the lamp and it is comfortable to wear for weeks.
⭐Suitable for Rhinestone Adhesion & 3D Nail Art
Are you obsessed with designing nail art by yourself? You can also use the solid glue to paste your rhinestones. Moreover, it can be used to create 3D nail art designs like sculpture gels do.
How to use solid nail glue?
This solid nail tips glue is super inconvenient and safe to use on your own at home? There are only 5 steps:
1. Prep your nails and make it clean and dry.
2. Apply a thin layer of base coat and cure for 60s.
3. Take out some solid glue with nail tips and press it on your nail. (Tips: Do not take with your hand, it will affect the firmness of the nail glue.)
4. Check if it's crooked and remove extra glue.
5. Cure for 60s, then you will get a strong nail extension.
How to remove UV solid nail tips gel?
Do you still worry about you can not remove your nail tips easily? As we know, if we do not remove it completely, it will damage our nails. So don't be ignore it. All good things must come to an end. I'll show you how to remove our nail tips step by step.
You'll need: nail files,pure acetone, cotton balls and foil(or a small bowl), towel. With these things, you can remove it at home instead of going to the manicure store.
1. File the top coat off
Use a hand fail to sand off the smooth surface. Rub back and forth on the nails until the surface is worn off and the fake nails look dull.
2. Wrap your nails
You'd better apply a layer of cuticle oil or petroleum jelly to protect your skin from the acetone. After that, warp your each nail with cotton ball full of acetone and wait around 15 minutes.
3. Rub off the polish
After soaking, use a cuticle pusher to clean the softened gel.
4. Wash and apply
Be sure to wash off the residual acetone with warm water and soap, then apply some cuticle oil to protect your hands. More details, please check our below YTB video.
Are you interested in this kind of glue? Whether you will share this product with your friends? If you do, shop our new solid nail tips glue, explore and enjoy endless fun of DIY your nails at home!