12 Festival Christmas Designs For Each Precious Girl
Are you ready to celebrate Christmas?
For the rest of 2021, there should be nothing more exciting than the arrival of the Christmas. Imaging if you saw the beautiful manicure when you opened a Christmas gift, would you be happier?
If you still have trouble in choosing your Christmas manicure for this year, check Vettsy store out! This year, our store not only selected some great inspirations, but also designed some original works for you to choose. You can use our hot selling products, such as solid gel polish, solid nail glue, liner gel polish,etc. to complete these great ideas easily. Let's see what we got for you now!  
1.Classic Christmas Red & White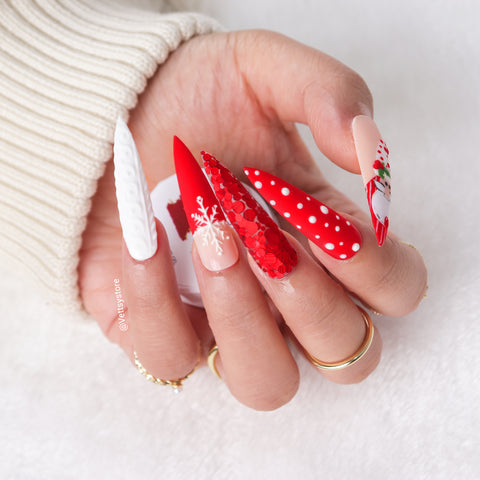 No other color can represent Christmas better than red. This design is made of red and white with lovely Polka dots, snowflakes and a cute Santa Clause! These elements immediately plunge people into the Christmas atmosphere. It takes the concept of a glitzy holiday manicure and makes it more creative.
2.Deep Green With Snowflakes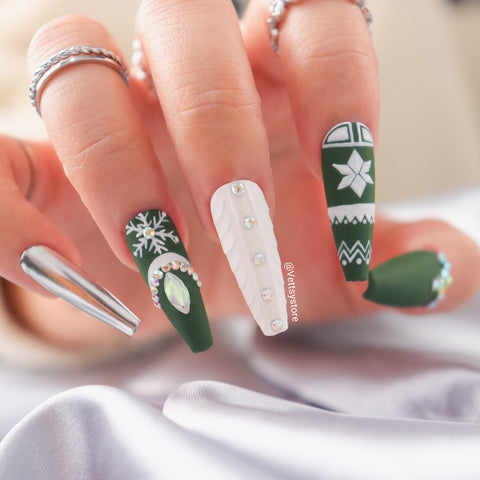 This creative design goes for a deep green solid gel polish and some glittery adornment. Simple but effective. The snowflakes   are generally dazzling in the sun, adding some color to this short winter day.
3.Gentle Blue with Glitters
Christmas does not always have to be red. A gentle blue can also be attractive. This design uses gentle blue as the base color, decorating classic and stunning Christmas elements, which is not only suitable for Christmas, but also for the whole winter.
4.Mysterious Purple & Sparkling Sliver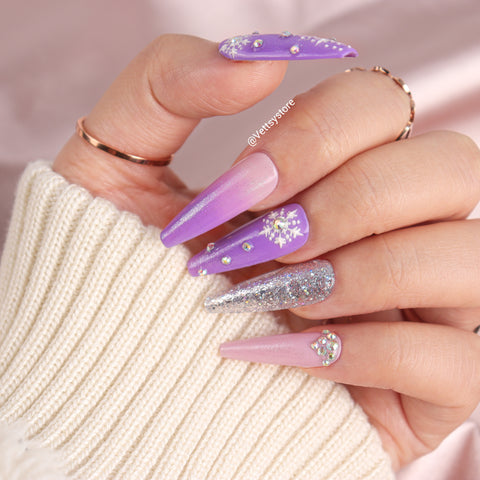 The combination of the mysterious purple and sparkling sliver can also make you instantly blend in this winter. The addition of classic Christmas elements make it suitable for welcoming Christmas. Special color matching makes you different in this winter.
5.Reindeer& Lovely Patterns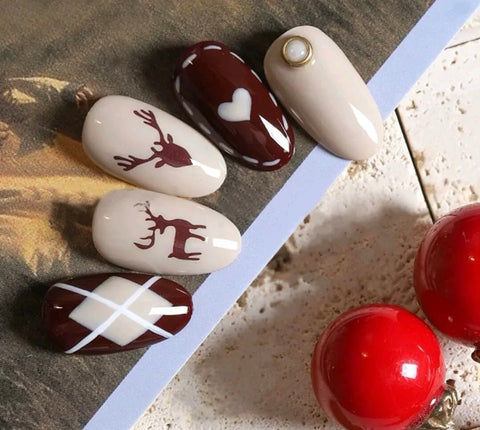 How can there be no reindeer at Christmas? This design just used the simple lines and heart patterns as the theme. If you hate complexity, then this one should be your ideal Christmas manicure.
6.Cute Pink with Dazzling Decorations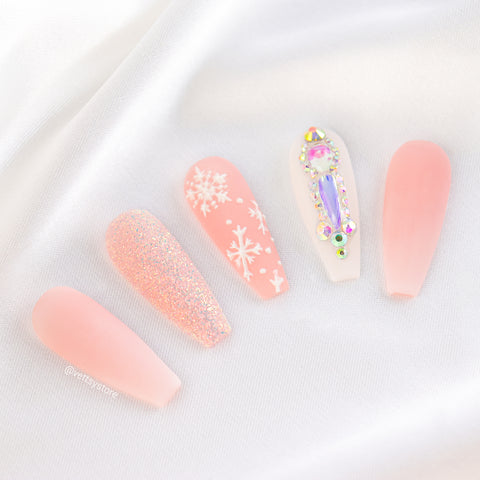 If you are a pink lover, I bet you can't refuse this one! Simple but shiny design with exquisite decorations makes you fall in love with it at first sight. Wearing it will make you full of the sweet breath.
7. A Reindeer is Running Towards You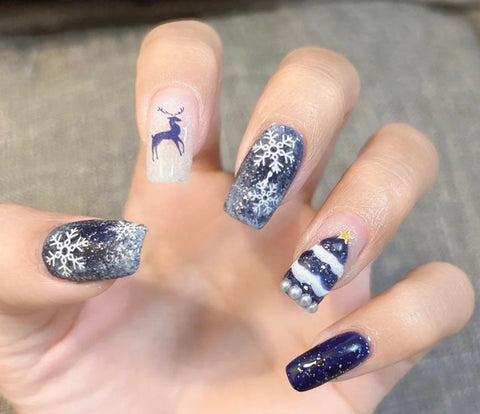 When you look at this design, you may be able to imagine the Santa deer pulling a gift that belongs to you, running from a forest in the distance. Will this design be your dreamy manicure for this Christmas? I guess the answer is YES!
8. Green Glitter & Dazzling Gold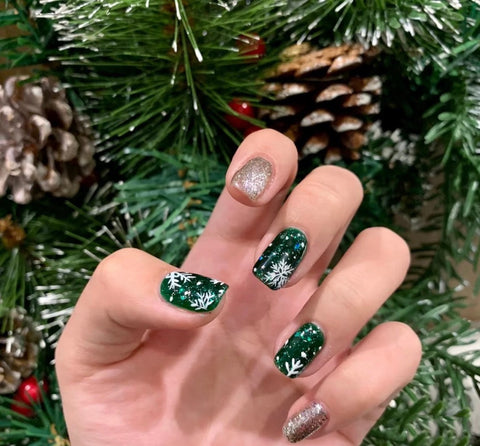 This creative design is also great. It is covered with a layer of glitter to keep your nails shiny at all time. The integration of snowflake elements can also match the festive atmosphere. How could you not like it?
9. Classic Scottish Tartan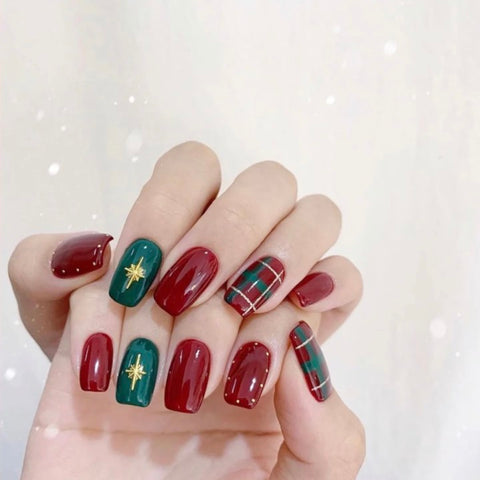 This creative design apply red and green as the main colors. A classic Scottish tartan design gives this design a cool vintage feel and adds a bit of festival elements to your regular go-to manicure. If you also like this style,then add it to your manicure collection.
10. Pink Snowflakes and Pure White Pearls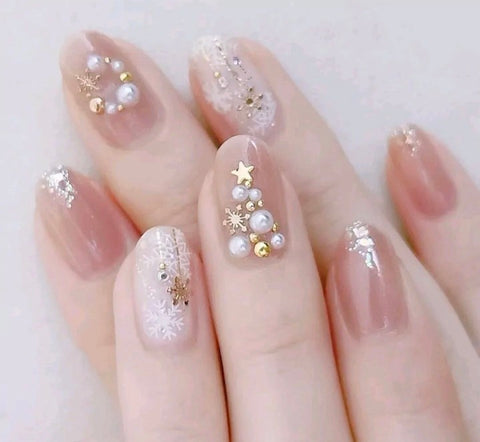 Have you ever seen a pink snowflake? Here it is! Light but still exquisite, this nude pink is just as pure as the snow. The addition of the golden snowflakes and pearls make it more colorful. You will be in a pure world full of the pink snowflakes.
11.Bright Color With Cute Cartoon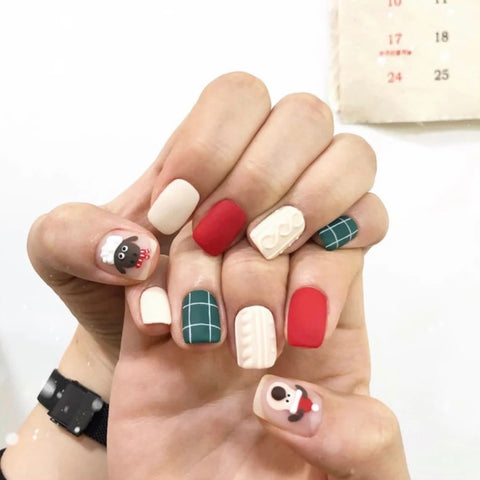 This one is super suitable for the girls who are outgoing. The combination of various bright colors can make you very conspicuous in the white world. And with the addition of cartoon patterns, the cute image is more vivid.
12. Classic Red and Green without any decoration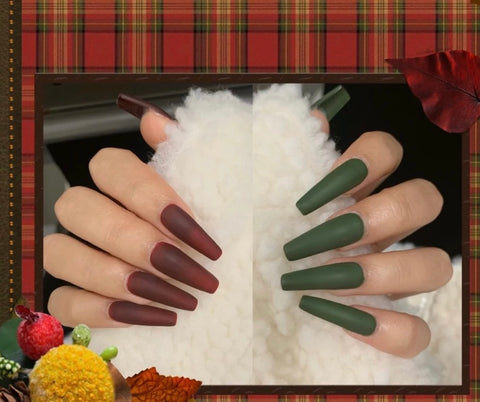 If you are a minimalist, then you must not miss this design. There is no any decoration. But the classic combination of red and green is enough to get you fall into the atmosphere of Christmas. What's more, you can complete it easily by yourself at home even you are a beginner.
Christmas is around the corner! There is nothing more urgent than choosing a beautiful Christmas manicure. Don't hesitate anymore and hurry up. Dress yourself up before Christmas, and greet it in perfect condition.