What nail designs can you find on Vettsy this summer? French manicure? DIY mani? Stay cute? The answer is that we have everything you want. If you want to bloom your beauty to the fullest this summer,  coming here must be the right choice. We have carefully prepared 12 trendy designs for you. Whichever you choose, you'll be the most dynamic and eye-catching person in a  crowded. 
1. Green Mist
Summer is the time to indulge yourself. This bright green cat eye gel polish isn't overly flashy, but it'll keep you looking great all summer long. We also specially applied some dreamy mermaid powder to add more sparkle to your manicure.
Products Used:
2. Mermaid Dream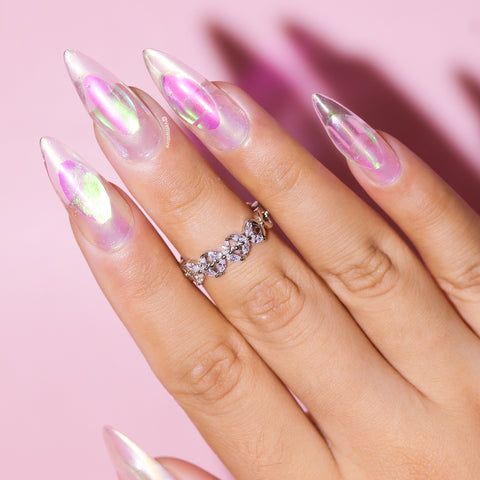 If you are tired of bright colors but unwilling to be ordinary, this aurora ice nail design is tailor-made for you. Aurora Ice Cube Decals and mermaid powder together can make you feel cool and dreamy from the pavement, and dispel the irritability of the summer heat.
Products Used:
3. Clear Sky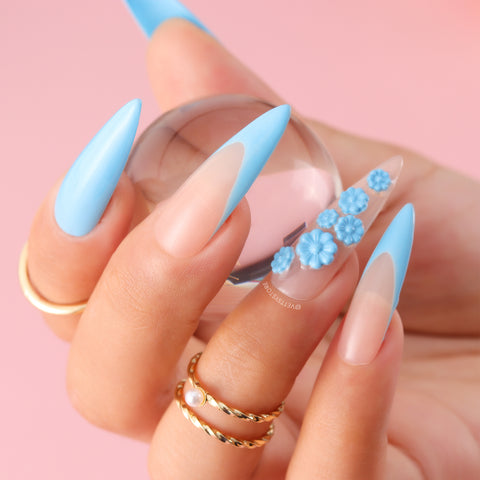 Blue nails are always one of the best gel manicure ideas for all styles. These 3D blue flowers are just so cool. You don't have to spend too much time on them, all you need is a 3D nail art mold. The pointed French design adds a touch of elegance and intellectuality to this nail set.
Products Used:
4. Hot Summer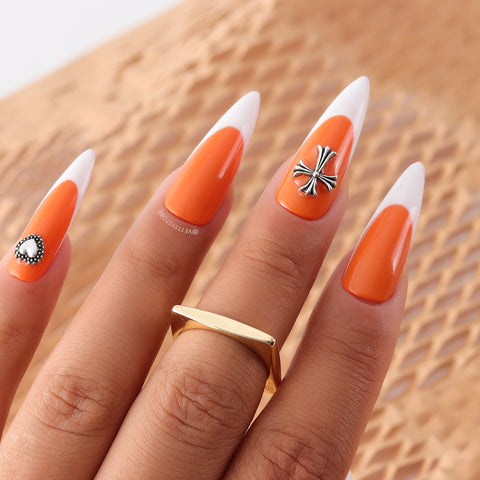 Bright and flamboyant orange collides with white classic French, to create an unforgettable manicure look that's soft yet bold. Nostalgic yet modern, this design is a great addition to your summer manicure.
Products Used:
Gel Polish Set-Retro Pumpkin-01
5. Devil's Eye
Have you heard the legend about the Devil's Eye? As long as you wear blue eyes, you can get rid of bad luck. Now, do you want to try this mysterious design? Don't think it's complicated, simple stickers can achieve it.
Products Used:
6. Berry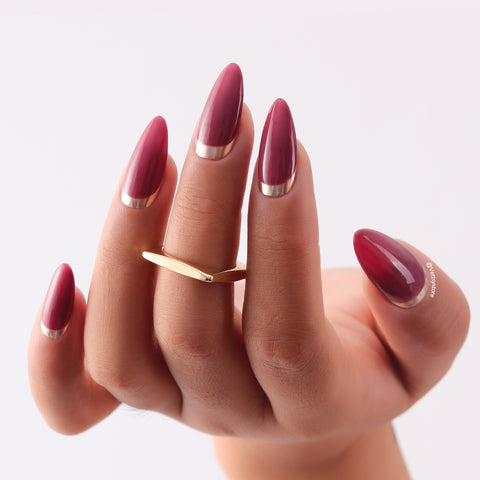 Looking for a little twist on the classic French manicure? We suggest you try this, you will get unexpected results. Look at it, the coveted berry-colored nail polish with a golden reverse French looks great on every skin tone.
Products Used:
7. Little Garden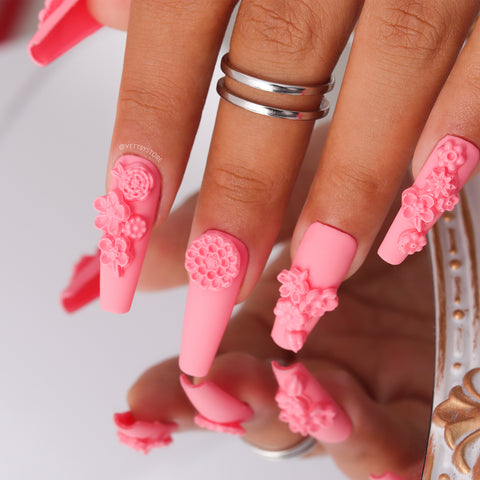 What could be more attractive than a floral manicure? This super sweet 3D flower design is sure to be a summer trend. It's pretty and delicate, and it can be done easily even if you're at home. As long as you have a 3d mold, you can move all the flowers to your nail art.
Products Used:
Gel Polish Set-Girlish Dream-02
8. Black Swan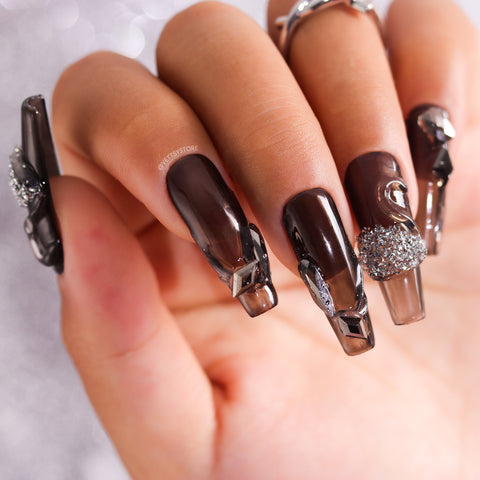 The pure white swan is certainly desirable! But we believe that you will also be attracted by this tempting black swan if you pursue the unique. Jelly black shade, delicate shinning swan, and gorgeous rhinestones make you exude your charm all the time.
Products Used:
9. Summer Party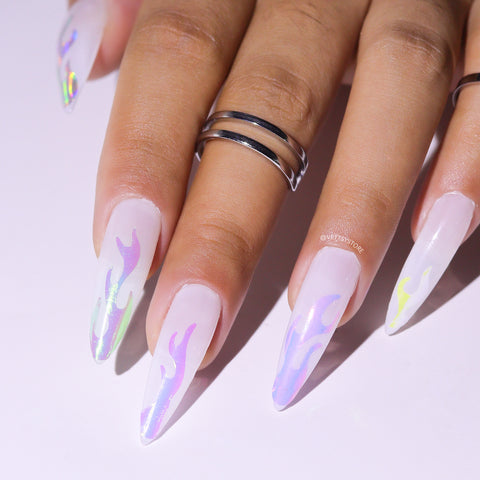 We promise that this one will have absolutely no difficulty for you. You just need to prepare your favorite shade and holographic flame stickers. And these iridescent flame stickers on your manicure will make everyone feel your enthusiasm for this summer.
Products Used:
Nail Stickers-Holographic Flame
10. Pure Camellia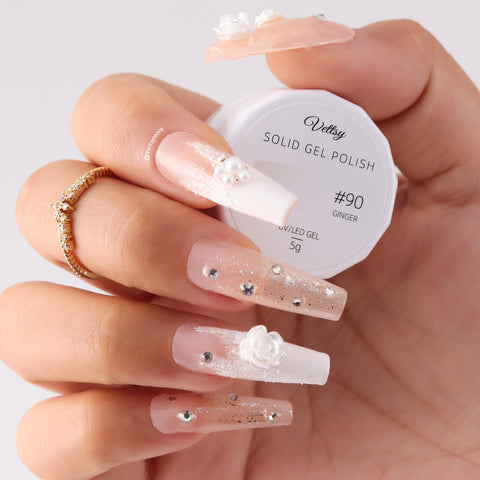 Seeing this manicure for the first time, we thought it would go well with a plain white wedding dress. Wedding dresses cannot be worn every day, but you can have such beautiful manicures anytime.
Products Used:
11. Lemon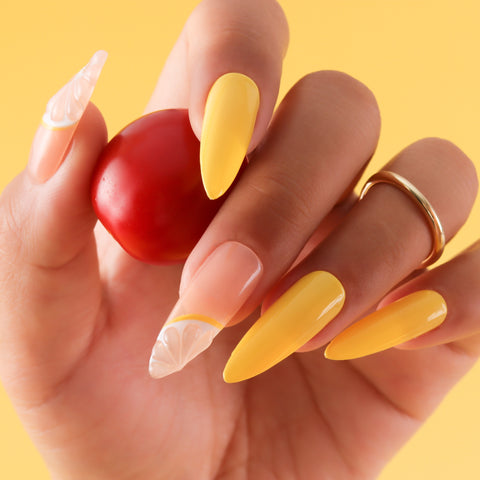 Fruit-inspired manicures are one of the current trends. Lemons are the must-have fruit this summer, so this design will capture your heart. Bright yellow adds a lot of vibrancy to your nails and keeps you energized all summer long.
Products Used:
12. Neon Splash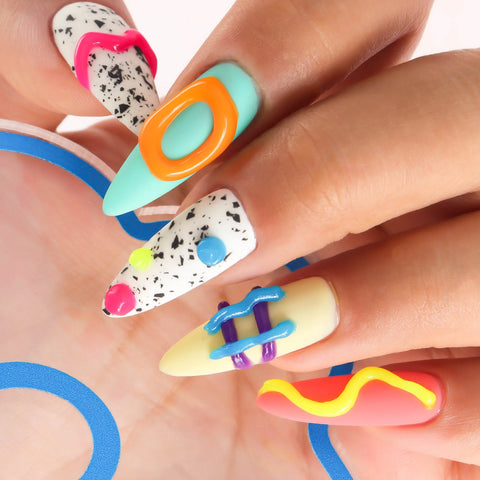 It would be a shame to have only one color option this summer. If you're looking to put all your favorite colors on your nail, this one is sure to inspire you. Various colors of luminous 3D gel with different shades, this is a color carnival party. Who wouldn't want to join such a lively party?
Products Used:
These are all the 12 designs that Vettsy specially designed for you. All you need to do is choose whichever one matches your vibe and join us for a manicure spree during this long, hot summer!