Summer has rang your doorbell and invited you to a frenetic beach party. Are you still looking for memorable and stunning toe nail designs? If you are,congratulation! You came to the right place.
We have collected 12 amazing nail designs for your toes. You can not only get the perfect design inspiration here, but also get great products by the way, kill two birds with one stone, why not? We recommend that you take a moment to browse all these cute and creative toenail art designs and get inspired!
1.Color Festival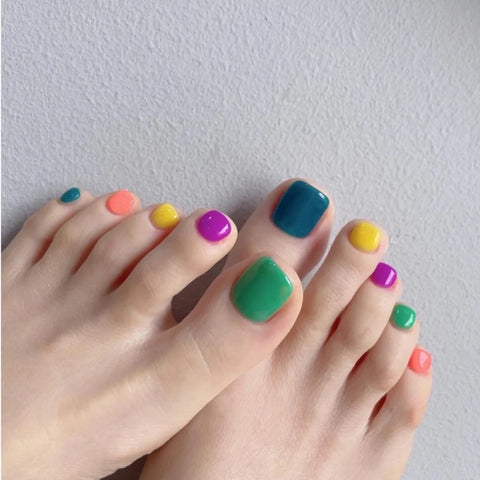 Bright colors can not only bring you endless vitality in the hot summer, but also always catch everyone's attention! If you are craving compliments from others, then you need to try this colorful toenail art. This design does not require you to have impeccable skills, you just need to prepare your favorite solid nail polish.
2.All Blue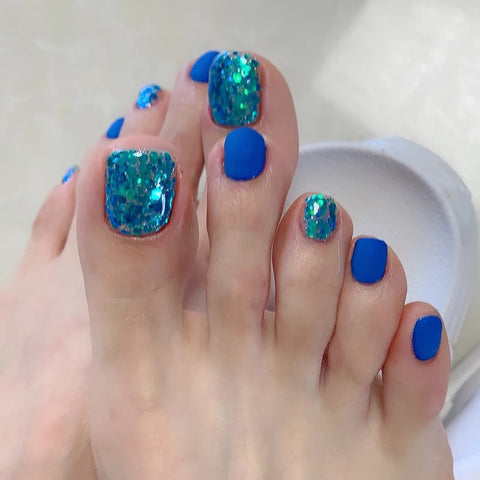 In summer, the sky is blue, the sea is blue. If your toenails are blue, then this summer you can hold it perfectly! This design is dominated by dark blue with some blue glitter, and it looks as intoxicating as the sparkling sea.
Products Used:
Nail Glitters Set-UV Color Changing
 3.Watermelon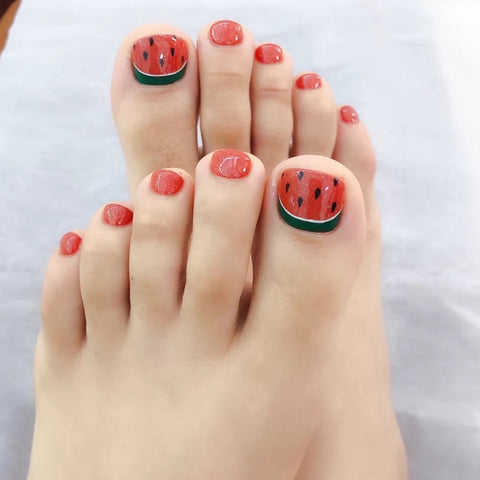 This summer toenail design offers a cute watermelon look. If you love this nail art trend, you can easily get it at home.  You can also opt for a gel polish with a little shimmer to give your toe nail art a more unique look.
Products Used:
4.Cute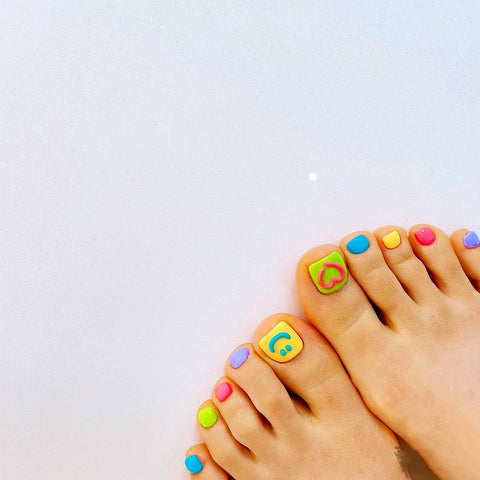 This design is dominated by macaron color matching, which looks harmonious and suitable for summer. Its highlight is the addition of our new 3D luminous gel. You can use it to design any 3D patterns, such as letters, bows...isn't it fun?
Products Used:
 5.Daisy Garden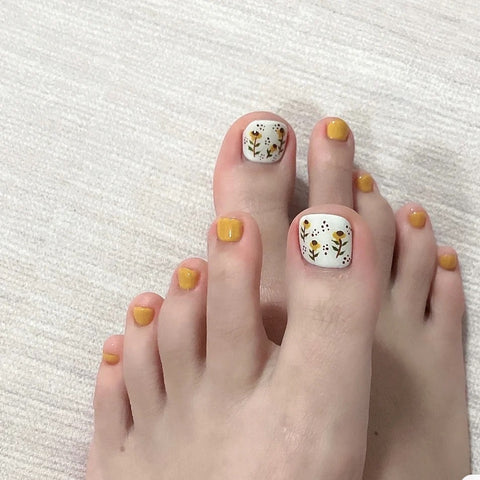 One of the most popular toenail design trends for summer is flowers! To achieve this design, all you need are the vibrant orange solid gel and flower-shaped stickers.This floral-themed design makes it easy to get to any beach while you're on vacation just by staring at them.
Products Used:
6.Breath of the sea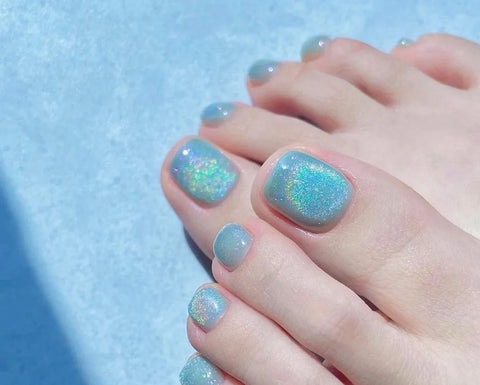 It doesn't matter if you're too busy to go to a beach party. This design will bring you summer joy too. The light blue shade is like azure sea water, and then coated with a layer of rainbow cat eye gel, the whole design looks like a rainbow reflected on the sea, very beautiful and dreamy. Even if you don't go to the beach, you can feel the charm of the sea.
Products Used:
7.Cool Girl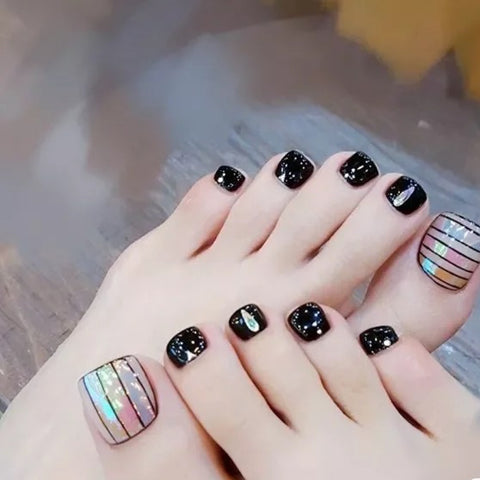 If you are a maverick girl who likes toe nail art very much, this is yours. It doesn't look tacky or flashy at all. The combination of cool black solid gel and laser stickers makes it impossible for anyone to take their eyes off you. Bravo!
Products Used:
 8.Go for a picnic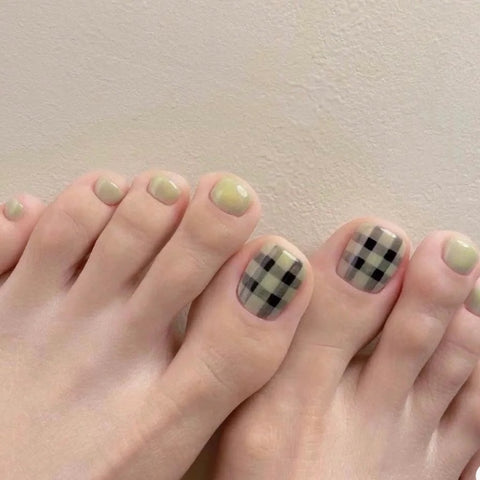 Another design that is perfect for summer is the plaid pattern. Does this pattern remind you of a picnic mat? Fresh green can make you feel a little cool in the hot summer, and eliminate the boredom and anxiety brought by hot summer.   
Products Used:
9.Glitter
What can really make you stand out in summer must be the glitter gel polish! What I recommend about this toenail design is that it is also easy to do at home. It will make you look very attractive and it will work for everyone. All you need is one of your favorite glitter gel polishes.
Products Used:
10.Bow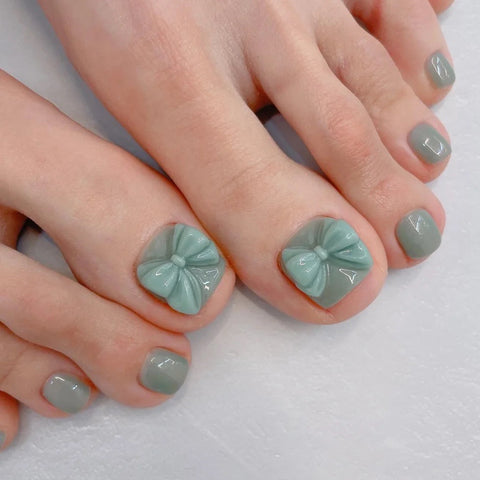 Let me see how many girls' hearts this bow design hits?This design can not only make you more elegant, but also liberate your inner girlish nature. You can change it to any other color you like if you want! As for the bow, you can use 5 in 1 top coat to achieve.
Products Used:
11.Butterfly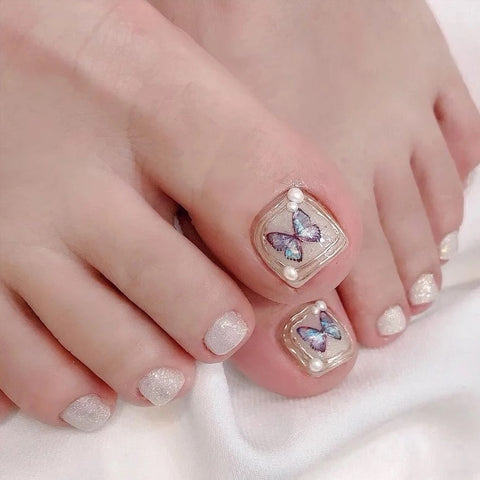 Do you like the elegant gesture of butterflies dancing among the flowers? The design is not only themed with elegant butterflies, but also embellished with pearls and mirror powder. The combination of all these elements will not make you feel vulgar, but will show the elegant temperament vividly.
Products Used:
Nail Miroor Powder Cushion Pen
12.Beach Party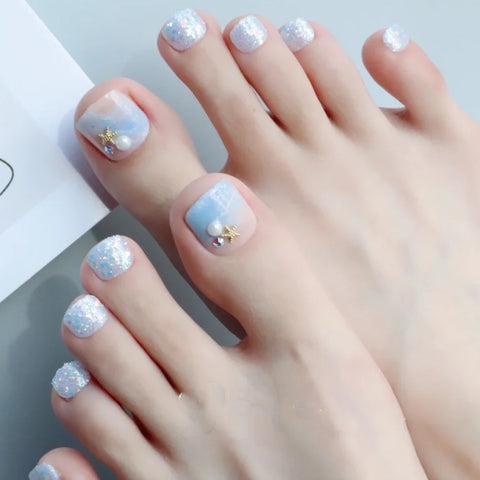 This shade looks great on a sunny day and you can wear toe-exposing sandals for a cozy walk on the beach. Decorating your toe nails with delicate pearls and starfish is always a good idea to further your stylish look. Wear it and enjoy the leisure time by the sea!
Products Used:
Nail Glitters Set-UV Color Changing
Trust us, as long as you use any of the designs above, you'll feel great from head to toe when you go out!   
If you weren't born with beautiful toenails, don't worry, as you can still achieve these pretty designs by using fake toenail tips and nail tips adhesive gel.
Now please put all your worries aside and cheers to summer!