Valentine's Day is fast approaching, and there's a lot of romance going on. Whether you're solo or coupled, we are ready to enjoy the sweet atmosphere of this romantic getaway. The moment we put on a beautiful dress and get our manicure done, we are doing it for ourselves, not anyone else.  
We've got 12 adorable and charming inspirations for you that you're sure to love. Keep reading to find the love-inspired look that's perfect for you.
1. Swirl of Love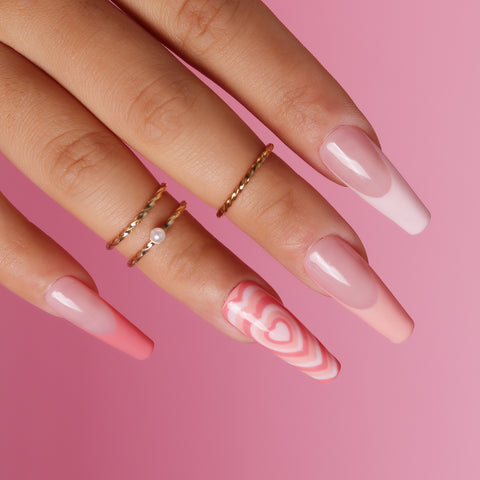 Don't fall into the vortex of love easily, otherwise it will be difficult for you to escape, just like you can't break free from the temptation this design brings to you. The beauty of pink, the classic French style, and mystery swirl make you fall head over heels for this design.
Products used:
2. Love French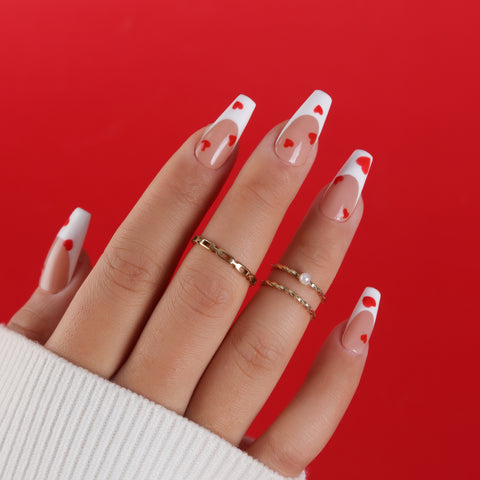 For those fancy and colorful V-Day nails, this design wins attention with its classic and easy so that we are hard not to love. The jelly pink shade is the most important part because it brings out the lovely vibe. The French design adds timeless classics, and plenty of mini hearts bring the sweet atmosphere to the highest level.
Products used:
3. Sparkle in V-Day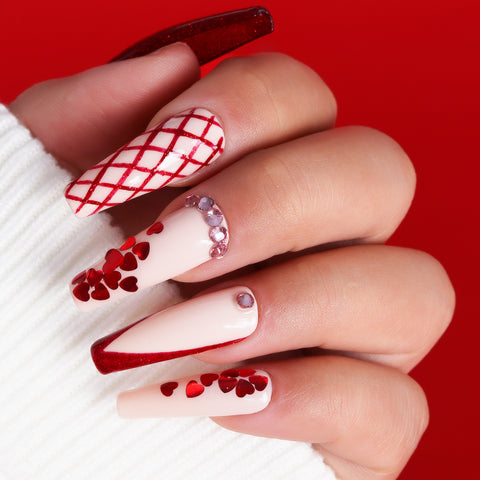 Glitter nails are always in trend. If you are planning a luxurious and memorable date, then you must get this awesome design. Our reflective gel can help you to achieve this luxurious look easily. Adding some love sequins to perfectly recreate this design, so that you can always control the sweet atmosphere of the date.
Products used:
4. Dreamy Love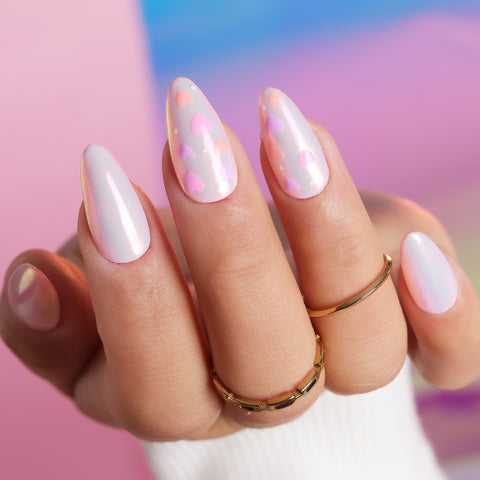 Unicorns, mermaids or aurora...what comes to your mind when you see this dreamy design? Well, whatever you're thinking, we can't deny that we're loving it. If you think it's hard to create such dreamy effect, then you are wrong. A aurora powder pen or palette is enough.Of course, it may not only be this beautiful luster that attracts you. The cute hearts are also amazing. Who doesn't love a dreamy and bright Valentine's Day?
Products used:
5. I Love You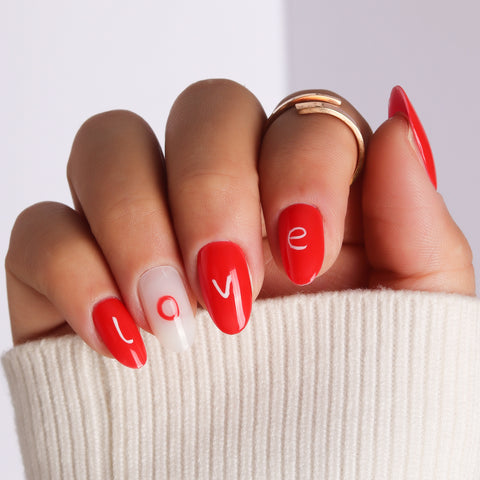 "I love you" must be the most touching confession in the world. The easiest way we can show our love this season of love is to paint it on our nails. Needless to say at any time, show your nails. No skills required, just write down what you want to say with colorful acrylic paint pens.
Products used:
6. Pure Love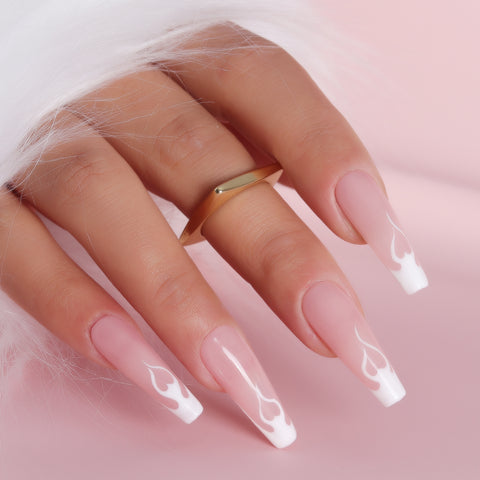 If you want to get rid of pink, this design can definitely be your first choice. Jelly color and pure white hand-painted, no more decorations,but show us the best look of love. This design seems simple, but the hand-painted part is difficult to do. So you have to practice your technique and at the same time you need a high quality brush to achieve it.
Products used:
7. Sending Love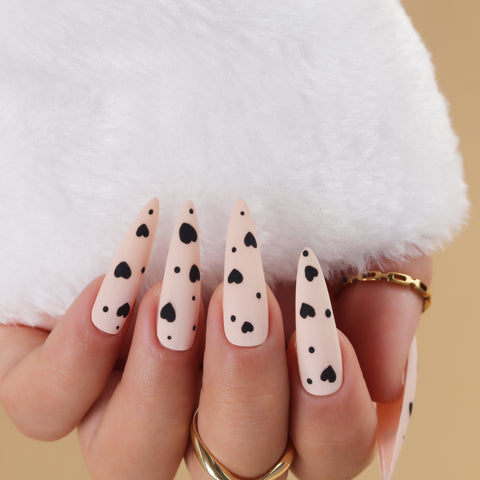 Keep sending love...if pink or other cute colors aren't your jam, how about nudes? It goes with anything, even if you add some special black hearts, you don't have to worry about being weird. Everything looks so harmonious, because love is in the air.
Products used:
8. Love Breath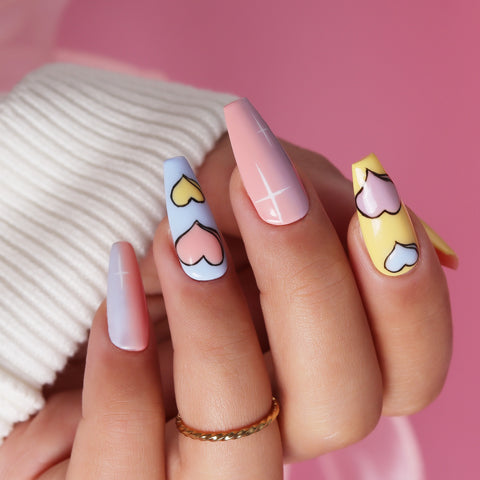 What I can express this design is just darling. The macron color picked are a match made in heaven with these pop hearts. As for the ombre effect, we recommend that you'd better use a professional ombre brush, it will make everything easy.
products used:
9. Velvet Heart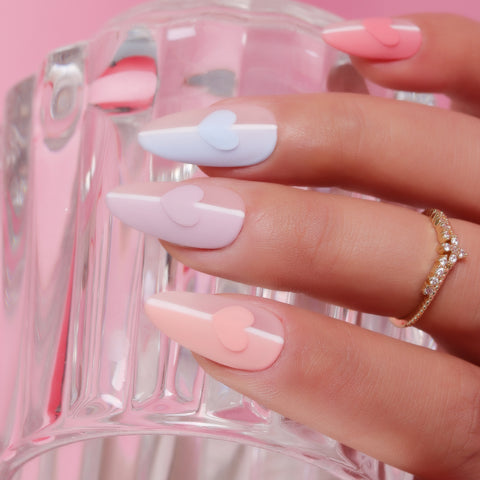 You don't see this particular gradient effect very often, but it's worth a shot. This version of the nail art features bright macarons and heart accents for an elegant and colorful casual-chic look.
Products Used:
10. Happy Solo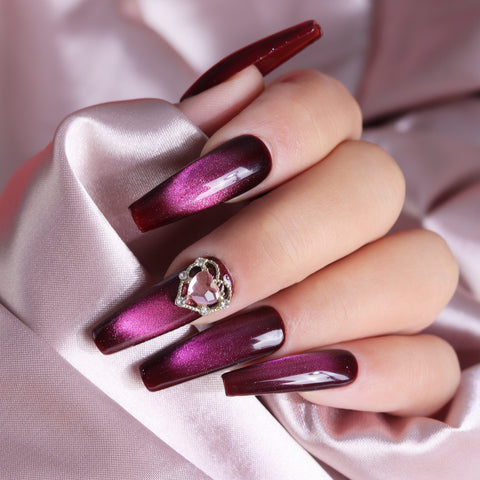 If you are a beautiful lady who is single, then this one will definitely perfectly interpret your beauty. The mystery of cat's eyes not only reflects your mystery, but also makes you exude your unfathomable charm.So what if you are single, the same charm is infinite.
Products Used:
11. Valentine's Day Rose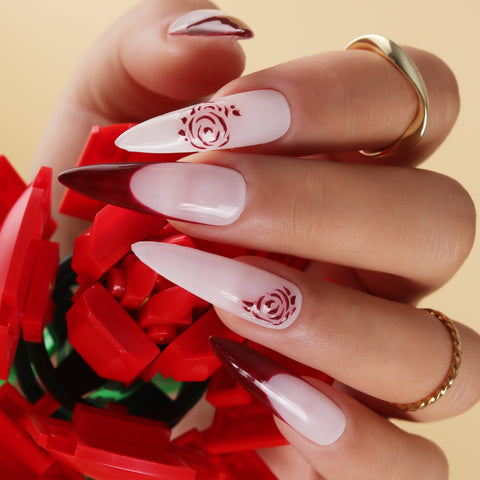 A glass of red wine can make the surrounding ambiguous atmosphere instantly rich. This burgundy manicure style might not make this Valentine's Day yours to remember forever. But the good feeling of this moment is something that people will never forget. Maybe after a long time, you can still remember the wine red rose on this style.
Products Used:
12. Pretty U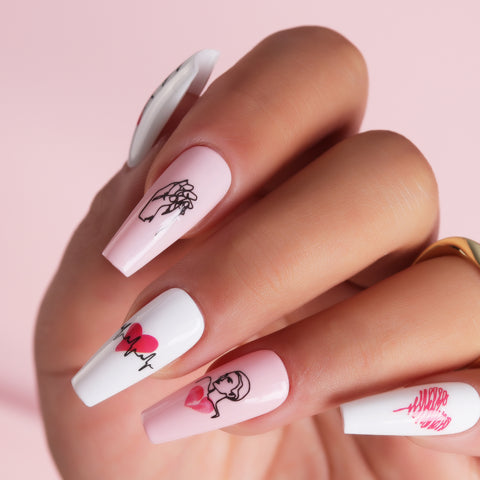 It's time for nail art newbies. Trust me, even if it's your first day getting a manicure, you can get this style done at home. Because the pattern on the nail art does not require you to spend time hand-painting, only a one-dollar sticker is enough. Of course, I have to say that white and pink are simply a match made in heaven.
Products Used:
In addition to these 12 V-Day manicures, we have also prepared a special Valentine's Day gift box for you. Super exquisite gift box packaging, a lot of Valentine's Day-themed nail products, 25 beautiful items value $200+, take your Valentine's Day to a sweeter vibe than ever.
Get beautiful with Vettsy.