No matter how long the winter, spring is sure to follow.
It's time to take off your winter clothes and ditch the winter manicure. If you're wondering what kind of nail art will be in favor this spring, then Vettsy can definitely be one of your many choices. We have prepared various styles of spring manicures to match the youthful and joyful atmosphere of this season! So let's take a look at this year's most popular spring nail art with us now!  
 1.Daisy Fields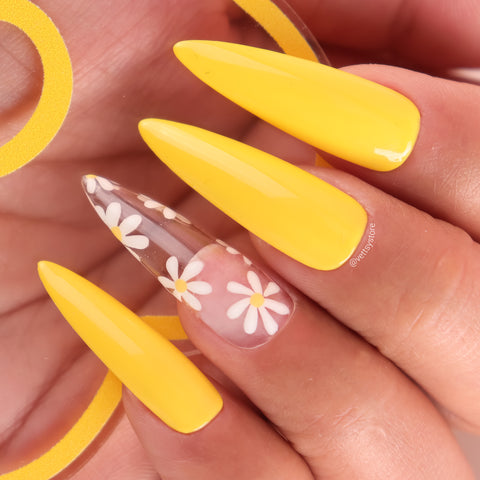 Spring is the season for flowers, and daisies are the most popular flowers! This design uses vibrant yellow as the base color, and then embellishes some lovely daisies. The bright color and detailed floral designs will instantly captivate you.
2.Colorful Season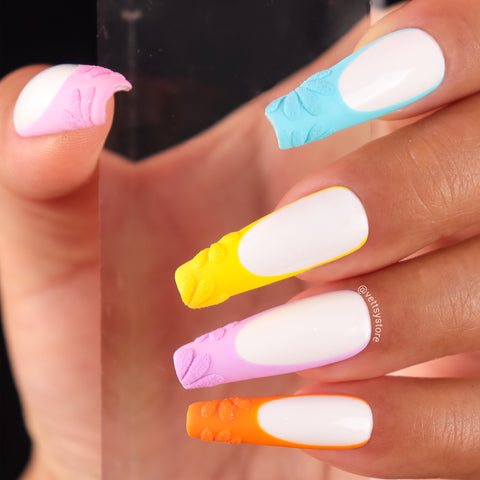 We will never give up on French manicures! This design paints a different color for each of your nails. The rainbow of colors would be the perfect spring nail colors! They are wonderful balance of bold and classic.
3.Romantic Garden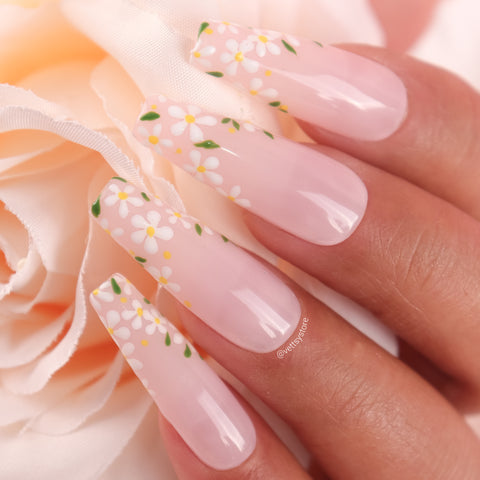 Pink must be the go-to for this spring! If you love flowers, then this design can turn your nails into a romantic garden. The delicate flowers sway with the breeze, making people feel as if they are in a sea of flowers. Who wouldn't love such a romantic scene?
4.Colorful Park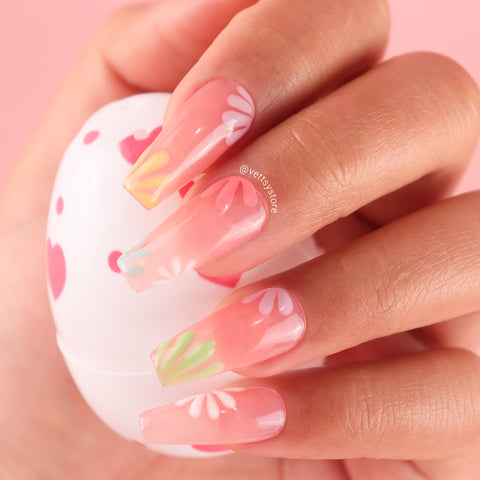 Spring should be colorful. This design use jelly-textured gel polish to create a fresh and natural atmosphere. Its colorful flower design make it practically mesmerizing. It will put you in a spring mood and let you spend a fresh and natural spring.
5.Blue Blossom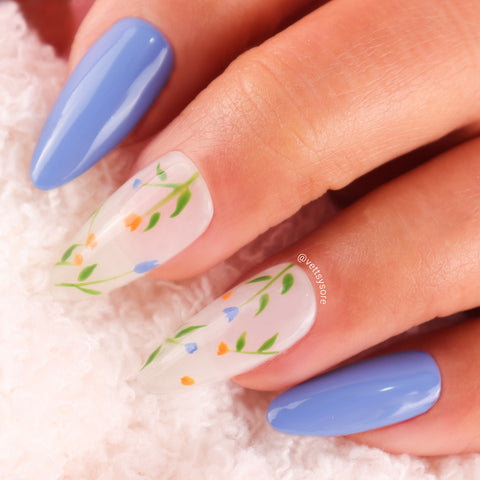 If you are obsessed with the deep blue, then you will be satisfied with this design. Paint emerald green branches on white nails, with bright little flowers growing at each end. This will bring a true spring essence to your nails! Is there any reason not to be excited about it?
6.Classic French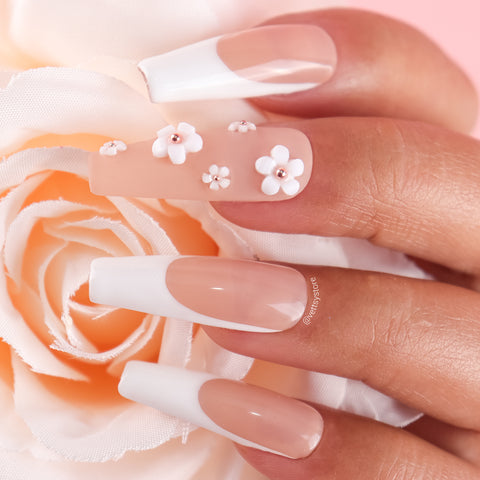 This French mani is classic but still different. Perfectly combined with the elements of spring, the embellishment of small flower ornaments can make it in no way inferior to other manicures in this spring. If you like classics but hate old-fashioned, choose it!
7.Spring Travel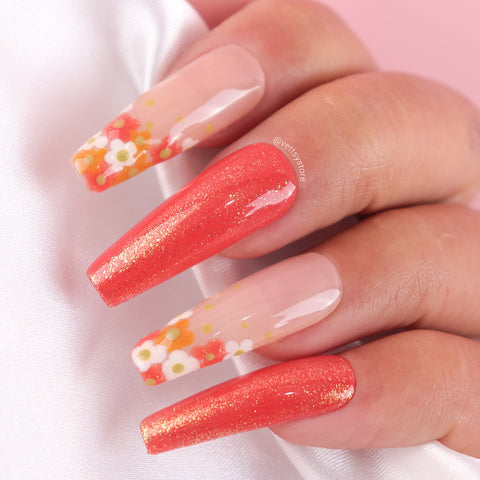 Love glitter? It's here! Subtle flashes are brighter than usual in sunlight. Small flowers of various colors piled on the tip. We strongly recommend you wear it to go for a travel. Because vibrant nail like this one will definitely be a great way to stand out anywhere.
8.Rose Garden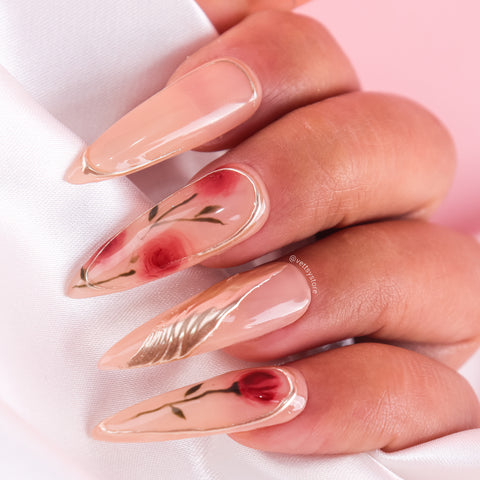 Do you like walking in the rose garden? This design is boldly smeared with a lot of golden mirror powder, making it impossible for anyone to ignore it! Then paint a gorgeous and proud rose, as if to let everyone smell its rich fragrance.If we can spend this spring in the fragrance of roses, it must be a kind of enjoyment. 
9.Beauty of Spring
No time to appreciate the beauty of spring? It does not matter! This one adds a lot of realistic little flower decorations to the nail art, so that you can feel the breath of spring at any time. And these golden vines make your manicure even more distinctive.
10.Subtle Shimmer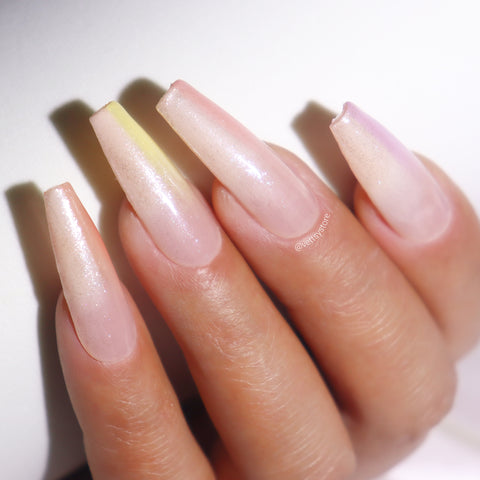 This one uses a light pink as the base color, and amp up a subtle sheer pink with tons of shimmer. Each finger has a different color embellishment, shiny and bright. Try this design to celebrate a perfect sunny day. Trust me, you won't regret your choice!
11. Spring Vibes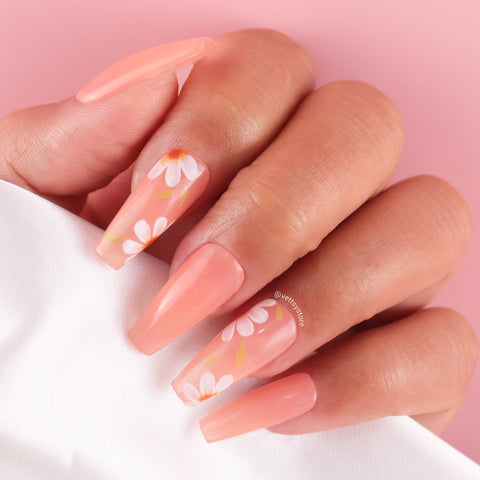 You will be mesmerized by the little daisies blooming in the breeze.This design is decorated with delicate little daisies and a coveted pink that will let you immerse yourself in this wonderful atmosphere.What's more perfect than enjoying the breeze and the scent of flowers on a warm spring day?  
 12.New Life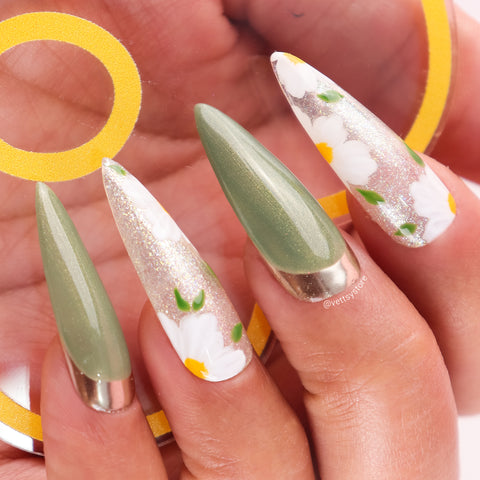 Spring represents the rejuvenation of all things, and green represents new life. This one chooses green as the theme color, adding some wanton blooming flowers, full of spring flavor. What's more special is that the mirror powder is added to the end of the nail piece, which makes him show a more amazing effect.  
Most of these designs use our best-selling product, Solid Gel Polish to paint a variety of beautiful and realistic flowers, plus some cute accessories for the icing on the cake, making each design a perfect match for the spring vibe. We're sure you'll find at least one design that you'll be fascinated by! 
Shop now for these nail art products to brighten your Spring Day!