Solid Gel Set-Red Velvet
customers are viewing this product
Check this new highly pigmented creamy solid pudding UV gel polish out! Highly pigmented formula enables one-stroke. Non-floating and silky features make it easy to apply and store. You can complete a lot of nail art work such as flower painting, line drawing and shading with it. 
❤️Choose your own colors! ❤️
Simply leave us a note in your order to change the colors into the ones you want.(Scroll down to see the color numbers)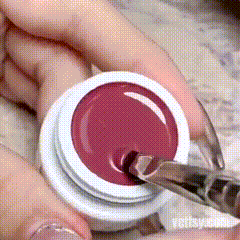 ⭐Highly Pigmented & One-stroke
⭐Non-floating & Creamy Texture
⭐Easy to Store  & Apply
⭐Suitable for painting, lining, shading & Long-lasting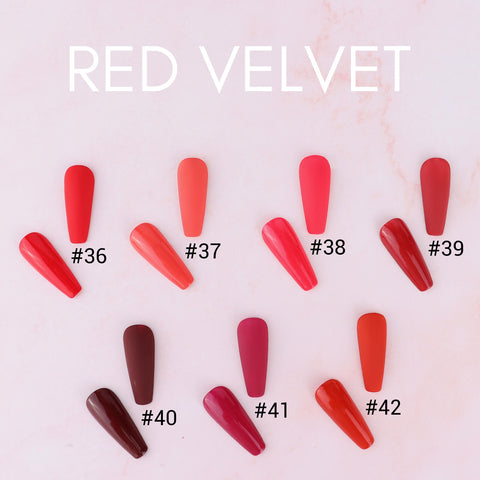 Item Type: Vettsy Highly Pigmented Solid Pudding Gel Polish Set
Volume: 5g/Bottle
Quantity: 10 bottles/set
Color: #36, #37, #38, #39, #40, #41, #42
Soak off: YES
Cured: UV/LED lamp
Lasting Time: 20-30days
Set Include:
Vettsy Highly Pigmented Solid Pudding Gel Polish (5g) x 7
Vettsy Base Coat (5g) x 1
Vettsy Top Coat (5g) x 1
Vettsy Matte Top Coat (5g) x 1
Crown Shaped Swatch x 2
UV Gel Brush x 1
Notice:
*Due to varying differences between screens and cameras, colors may not be accurately represented.*
Click Here for all 10 color sets
How to Apply Solid Pudding Gel Polish:
1. Clean your nails then trim nail surface as normal nail prep process.
2. Apply a thin layer of base coat and cure for 60s.
3. Use a UV gel brush to take out some solid gel polish from the jar.
4. Gently brush it on your nails starting from the free edge and cure for 60s.
5. Apply a thin layer of top coat and cure for 60s.
6. Enjoy a 20+ days long-lasting manicure.
How to Remove Solid Gel Polish:
1. File the top coat off.
2. Wrap your nails with cotton balls full of acetone and wait around 10 minutes.
3. Clean the softened gel with a cuticle pusher.
4. Apply some cuticle oil.
Tips:
1. Wet the UV gel brush with a little base coat before applying will make it easier to apply and come out with better effect.
2. Any base & top coat can be used.
3. You can apply several color coats to achieve your desired effect.
4. Do not stir your solid gel polish, or it will become sticky and floating.
Related Blog:
Traditional Gel Polish vs Solid Pudding Gel Polish: What's the Difference?
SHIPPING
Estimated Shipping Time: 1-4 weeks
Note: the logistics is not stable in some countries during this special period, thus may cause some shipping delay. Please be patient, thanks for your understanding.
Orders are not shipped or delivered on weekends or holidays.
RETURNS POLICY
Your Satisfaction is Our Priority.
All the goods are inspected before shipment, so if you are not satisfied with the purchase, please send your order detail (with problems) to our email address service@vettsy.com, we will refund or resend new ones within 24 hours once we get your requirements.
If you don't receive your package after 3 months. We will issue full refund for you.